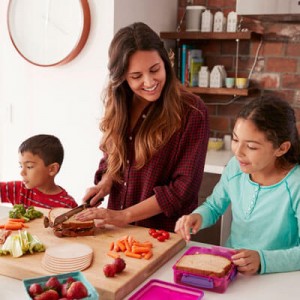 I like to pick and choose when I'm eating sugar, so I decided to get serious about finding some staples around my kitchen that do NOT have sugar in them but are still yummy. I recently saw this article from Obesity Society that says that U.S. adult consumption of added sugars increased by more than 30% over the last three decades. I would be really interested to know what that percentage is for children, too. When you start looking at the ingredients of everything in your house, you may notice the sugar really starts to add up! (My list of no-sugar options does NOT have artificial sugar substitutes. Most options are organic, which cannot include artificial sweeteners.) Go to your pantry and start looking at the ingredients on the back of boxes, and you'll likely be inspired to check out the list below.
Alternative Names for Sugar to Look Out For
In your search in your pantry, look out for these names – there are also a lot of other names and kinds of sugars. You can easily find more of them on Google.
Cane sugar
Evaporated cane juice
Rice syrup
High fructose corn syrup
Brown sugar
Fruit juice concentrate
Something else to look out for is when items say "No Sugar Added" or "Sugar-Free", make sure there are no artificial sugars added instead.
Thankfully, my sweet tooth prefers treats like brownies made with almond flour, coconut flour, coconut oil, maple syrup, and cocoa powder instead of traditional ingredients like wheat flour and sugar. I notice my body feels so much better when I eat that way. I do not keep a bag of cane sugar in my house. I do have honey, coconut sugar, and maple syrup in case I do want to make a pan of brownies or muffins! I do have snacks around the house that have sugar in them, but I limit them and they are almost always organic and/or non-GMO.
I'm a mom so I've especially noticed that many food products geared towards kids have sugar in them. I won't go into all the health problems this can create in children or adults, but it's a lot and quite serious. (Artificial colorings are in many food products for children with serious side effects as well but I'll try to stay on the sugar train.) I've noticed maintaining a healthy weight and feeling my best is much more difficult if I'm eating sugar. That being said, I added a few more snack products that kids love that we've switched to from the traditional sugary snack items.
The food conversation is really changing and has been for years. We're going from calorie counting to nutritional content counting. We've gone from staring at one big number under the calorie and servings area to checking out the ingredients list and asking how many phytonutrients, vitamins, minerals, and antioxidants are in it.
We have many patients in common with a local Integrative Health Center that has a team of medical doctors, nurse practitioners, and physician's assistants. I have noticed they commonly recommend the Whole30 for their patients to help them sort out their health issues.
Here are a few things that I have in my house that have NO SUGAR. I list what it is, the brand, and where to find it. Always confirm the ingredients by reading the ingredient list. Sometimes there are different types and it can be tricky.
Ketchup

Primal Kitchen Ketchup – Your local health food store
This one was TOUGH. I've tried several different brands and nothing beats Primal Kitchen. If you've found a no-sugar version you love that is different, please add it in the comments below! We need more options!

Pasta Sauce

Simply Nature Organic Pasta Sauce – Only at Aldi
Rao's Homemade Pasta Sauce – General grocery or health food stores
Primal Kitchen Pasta Sauce – Health food Stores

Salsa

Muir Glen Salsa – Most grocery stores

Mayonnaise

Sir Kensington's Avocado Oil Mayonnaise – Kroger or your local health food store

Beef Sticks or Jerky

Country Archer Beef Sticks – Costco
The New Primal Beef Sticks – Your local health food store

Peanut Butter

Once Again Peanut Butter – Kroger or your local health food store
They have sweetened and unsweetened. I like their cashew butter for my son because it's not as grainy as the almond butter. Here in Fort Wayne, Indiana, the co-op makes and sells peanut butter that just has peanuts in it.

Bacon

Local bacon – Your local farmer's market. Ask them to confirm that it is sugar-free.
As an alternative, many brands in you local grocery store happily share they have no sugar on the front of the package as trends are changing and consumers are looking for no-sugar options.

Granola Bars

Autumn's Gold Granola Bars – Costco. They are grain-free, made with honey and maple syrups.
Lara Bars – Most grocery stores. Not all kinds are sugar free so check the ingredients.
That's It Bars – Costco or most grocery stores